In one of the Facebook groups I belong to, one of the ladies came up with a genius idea: a sample challenge! The challenge is pretty straightforward, just use three or more of the samples received in various subscription boxes. Simple, right? But so many of us just toss the samples into a drawer and forget about them, so we really needed this!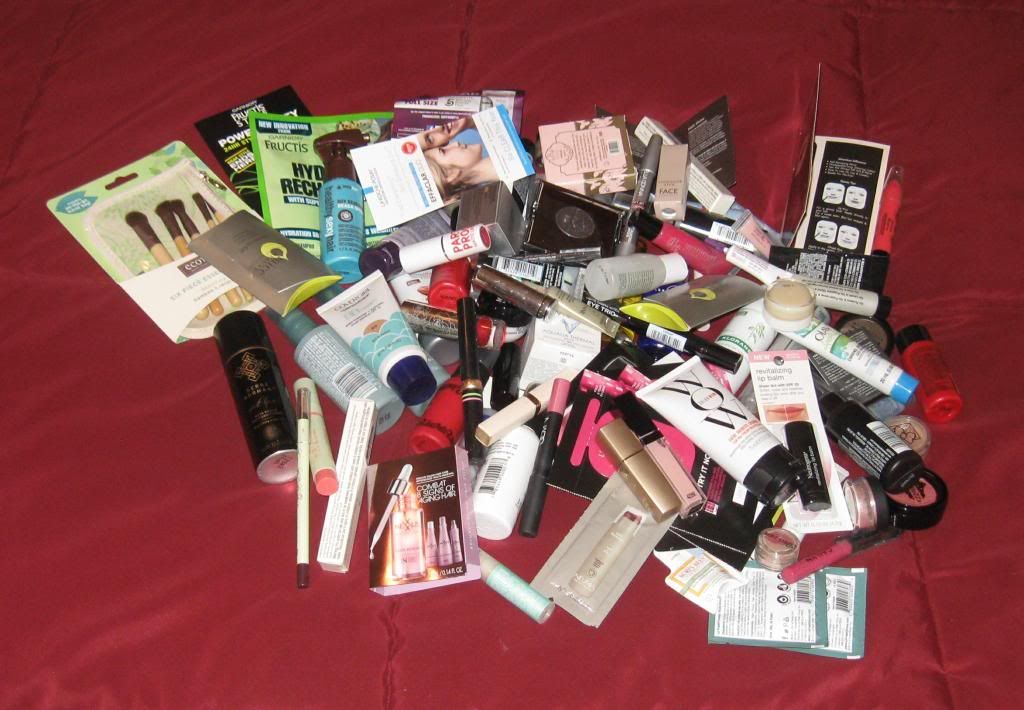 Sadly, this is just a small portion of my samples.
This week is a pain reliever and 2 makeup remover wipes.
The Samples:
Experience our best face wipes for all skin types. Remove make-up, cleanse and tone in one easy step. Infused with vitamin-rich White Tea, calming Cucumber plus soothing Aloe, pamper yourself with our make-up remover wipes. Thanks to our handy natural facial cleansing towelettes you can give your skin the care it needs no matter where you are.
Advil PM caplets
Advil® PM caplets combine the trusted pain relieving power of Advil® with a gentle sleep aid to help you get a good night's sleep.
Pond's wet cleansing towelettes
Perfectly clean & fresh in an instant. No other leading towelette is better at removing impurities and gently lifting away makeup than these soft, textured cleansing cloths. Infused with Vitamin E and a Triple Anti-Oxidant complex, they revitalize skin while leaving it perfectly clean and makeup free.
My Thoughts:
While the Burt's Bees towelettes were effective, they weren't as moist as I'm used to and felt a little rough. Overall, I didn't care for these towelettes and would not buy them.


The Advil PM caplets worked, as I seemed to go to sleep quicker than usual that night. The downside is that I felt groggy the next morning and it took me a long time to shake that feeling. I did not like how I felt the next day and will not be using these again.

I really liked the Pond's towelettes and these were my favorite samples from this batch! The towelettes were moist and removed my makeup with no problem. No roughness, but rather the smooth clean feeling I've come to associate with Pond's. Will definitely buy these next time I need cleansing towelettes!


Not a bad start, but I need to dive back in and start using my samples again!