BarkBox is, literally, for the dogs. Their goal is to make dogs happy. BarkBoxes contain all-natural treats and other the coolest pup products in each box - things you can't find at the typical big-box pet store. Each monthly box contains a combination of 4-6 treats, toys, and hygiene products that have been hand selected and approved by Scout, head product tester for BarkBox. (website)
June's theme is Space Camp!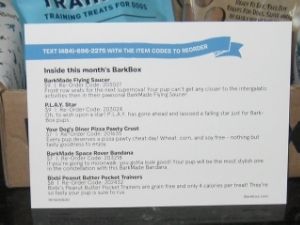 The info card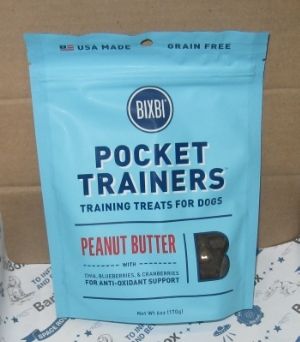 Bixbi Peanut Butter Pocket Trainers
Bixbi's peanut butter Pocket Trainers are grain free and only 4 calories per treat! They're so tasty your pup is sure to ruv.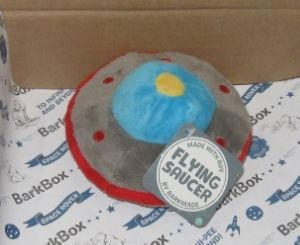 BarkMade Flying Saucer
Front row seats for the next supernova! Your pup can't get any closer to the intergalatic activities then in their pawsonal BarkMade Flying Saucer.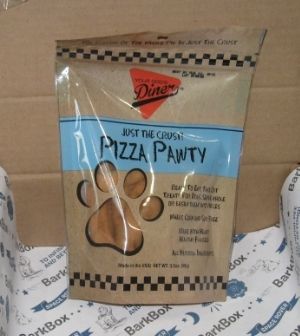 Your Dog's Diner Pizza Pawty Crust
Every pup deserves a pizza pawty cheat day! Wheat, corn, and soy free, nothing but tasty goodness to enjoy.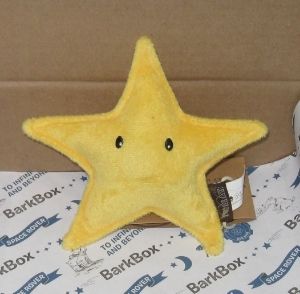 P.L.A.Y. Star
Oh, to wish upon a star! P.L.A.Y. has gone ahead and lassoed a falling star just for BarkBox pups.
BarkMade Space Rover Bandanna
If you're going to moonwalk, you gotta look good! Your pup will be the most stylish one in the constellation with this BarkMade Bandanna.
Waffles loves her new BarkBox!
Her favorite item so far is the star. It squeaks, and she loves squeaky toys!
Not a bad box overall. Waffles doesn't wear bandannas so this will go into our giveaway box, but she has two new squeaky toys to play with and those are her favorite kind of toys! The treats are both good sized treats, and who doesn't love peanut butter?
Anyone else get a BarkBox? Would love to compare notes and see what you received! We get the medium sized box.