After thinking about fostering for awhile, I finally decided to take the plunge when one of the rescues I follow on Facebook sent out an urgent plea. They had over 60 kittens waiting and were in desperate need of foster homes.
I reached out to them last Saturday, spoke to one of their volunteers on Sunday, was vetted on Wednesday, and went to pick up the kittens Thursday morning. The head of the shelter took me back to one of the kitten buildings and let me pick out which litter I wanted. Talk about pressure!
So many kittens to choose from! I made a snap decision to take the oldest bunch since I've never raised a litter before (all of my previous cats were adults). I only need to foster them until they're old enough to be spayed/neutered and can be adopted.
Turns out that my chosen litter had a sad story. Some evil human had left them in a closed storage crate. We've been having a bad heatwave so if someone hadn't discovered them in time, they'd certainly be dead! Who would do such a thing?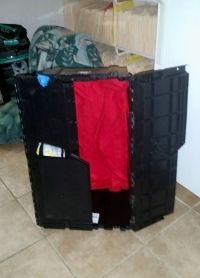 Kittens would-be coffin. (
source
)
Luckily, the kittens were discovered in time! They were given full check-ups by the vet, including their first shots. Poor babies!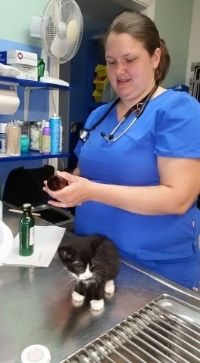 Look out! She's behind you! (
source
)
The shelter gave me several cases of canned food and I had already stocked up on kitty litter and Kitten Chow. Decided to use the Waffles' old cage from her heartworm treatment. She wanted to inspect it once it was set up!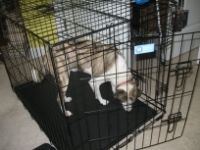 Official Waffles Inspection
While I've had rescue cats in the past, they've all been adults. I've never raised kittens, so assuming there will be a steep learning curve. And if I have any questions, there's always Google!
So without further ado, let me present my new foster kitties: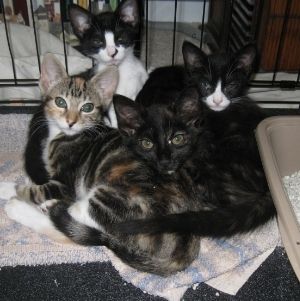 Hello!
Looking forward to our new adventure!