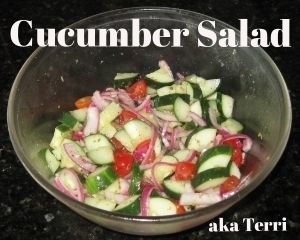 We have a small patio garden and are growing cucumbers and tomatoes. Why? Because that's what the garden center had when we went in search of plants and we didn't want to try our hand at watermelon or peppers.
Our crop has been pretty good, but now we had too many cucumbers to just cut them up for green salads. After an online search, I was inspired by a recipe for cucumber salad at
The Garden Grazer
. With a few tweaks, it's become our new favorite summer salad!
Ingredients:
1-2 large cucumbers
1/2 small red onion
handful of grape tomatoes
3 TBSP white vinegar
2 TBSP olive oil
1 TSP oregano
1/2 TSP salt
honey to taste (I use 3 swirls around the bowl)
Directions:
Cut the cucumbers into thick slices, then halve or quarter each slice. (I like chunky quarters)
Thinly slice onion, then separate rings. Cut if pieces are too large.
Halve grape tomatoes
Add cucumbers, onions, and tomatoes to bowl, set aside.
In small bowl, whisk together vinegar, olive oil, oregano, salt, and honey.
Add dressing to vegetables, gently mix together.
Refrigerate before serving. Best when given an hour to two to marinate.
I've made this salad with one large cucumber and then with 1 1/2 medium size cucumbers and they both turned out great!
While I like long pieces of onion, my family prefers smaller pieces so I started cutting the rings in half or quarters.
I eyeball the tomatoes and keep adding until it looks pleasing to the eye. Not very scientific, but it tastes good!
Enjoy!