As you can see by the mug tree in the background, I don't really need another mug. We got rid of over half of our mugs when we moved, but how could I resist when Tiny Prints offered me a free personalized mug if I just paid shipping?
Love how the mug turned out! Pretty picture of Waffles in her orange bandanna on one side...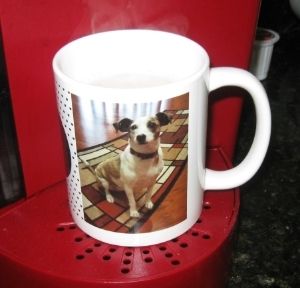 ...and her glamour shot on the other side!
The bottom of the mug has a Shutterfly stamp on it, so I guess that Tiny Prints has partnered with them. Very sturdy mug, and the pictures turned out beautifully! I loved the notepads I ordered from them, but have to say that the mug is my favorite!