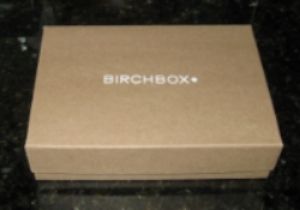 Birchbox
is a monthly beauty subscription where you receive a mix of beauty products (samples and full size). At only $10 per month, it's one of my favorite beauty boxes and a great deal! I gave myself a gift subscription so received the Welcome Box this month.
Really love how opening your box is like opening a present, complete with tissue paper!
My Welcome Box included COOLA SPF unscented matte tint moisturizer, Anastasia Beverly Hills clear brow gel, theBalm Stainiac lip tint, Beauty Protector Protect & Oil hair oil, and Whish coconut shaving cream. I'm not a big fan of hair oil or brow gel, but like the rest of the items. I had unsubscribed a few months back, but had enough points left over for a gift subscription so decided to sign up again under my secondary account. Fingers crossed next month's box is worth it!