As an adult with occasional breakouts, most acne treatments are too harsh for my face. Olay is a brand I've been using for years, so was excited to try their acne kit as I trust them to be gentle.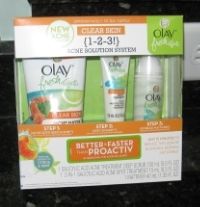 Olay Fresh Effects Clear Skin 1-2-3 Acne Solution System instantly reduces the look of acne better than the Proactiv* so you never have to let acne put you on the sidelines. And, the entire kit is dermatologically tested, oil-free, and non-comedogenic (so it won't clog your pores!). Plus, infused with the scent of citrus and mint, it leaves your skin looking energized.
The Olay Fresh Effects Clear Skin 1-2-3 Acne Solution System is a three part system that cleanses, moisturizes, and treats acne at the source. (Amazon website)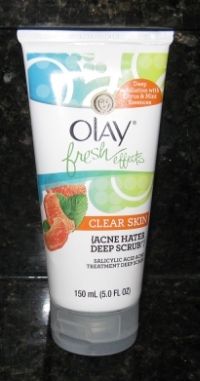 Step 1: Cleanse Acne Hater Deep Scrub is formulated with 2% salicylic acid to penetrate pores and eliminate most blemishes and blackheads while reducing excess oil.
A little goes a long way and I could feel the cleanser exfoliating while it lathers, but it's not too harsh like some scrubs. I really like the citrus scent, as it's not overpowering. A little on the messy side, I preferred using it in the shower so I didn't splash water all over my counter.
Step 2: Treat Spot Zinger is formulated with 2% salicylic acid and beautifiers to instantly improve the look of blemishes in just 10 minutes. And, it allows you to target blemishes individually to instantly battle and blur!
Used as a spot treatment for problem areas, I didn't experience any dryness or tingling like I've gotten from other treatments. Not sure if this quickened healing, but it certainly didn't hurt.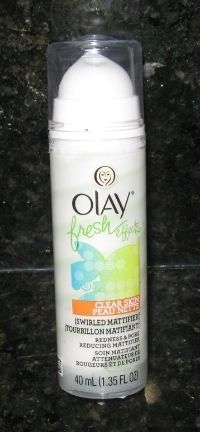 Step 3: Mattify Swirled Mattifier is a swirled moisturizer that mattifies skin to instantly reduce the look of shine and redness. Plus, it's formulated with 10 complexion benefits in one bottle to leave your skin instantly looking beautiful and shine-free.
Still not 100% sure what the purpose of this was, but I used it before applying my makeup instead of my normal moisturizer. I didn't notice any difference.
Since I've never used Proactiv, I can't compare the two. This didn't aggravate my skin and my face seemed calmer than usual after using this for several days, so think I might continue using. Once the mattifier runs out, doubt that I'll replace it but do like the first two steps.