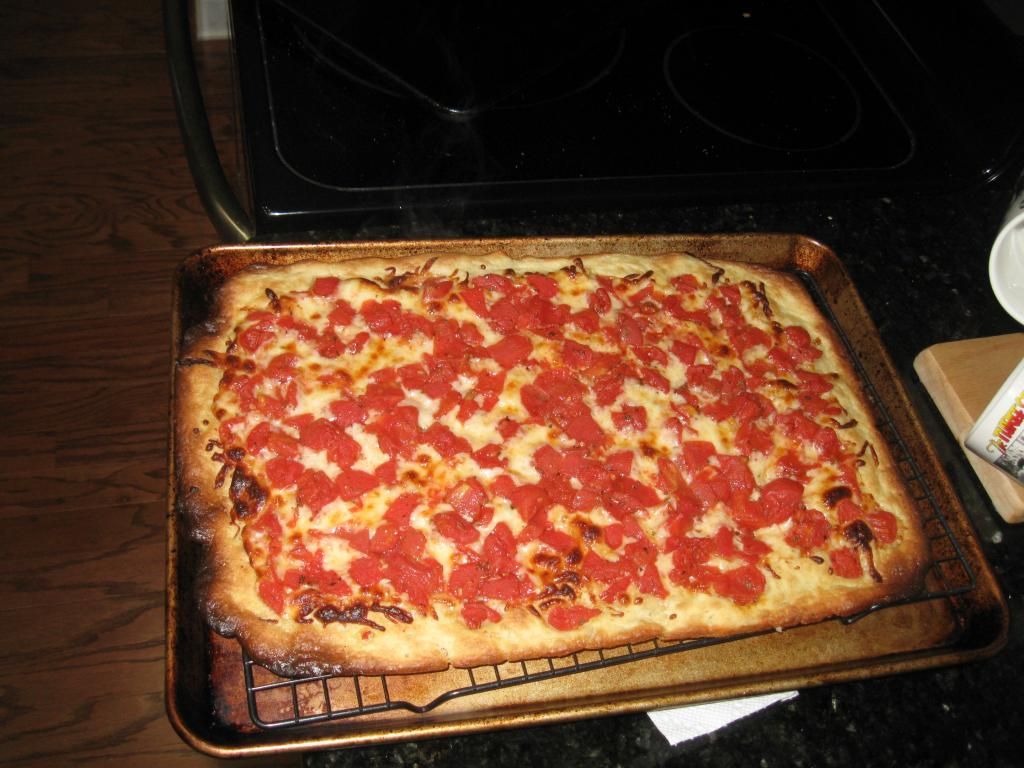 Grandma Pizza From Cook's Country
INGREDIENTS
Dough
3 tablespoons olive oil
3/4 cup water
1 1/2 cups (8 1/4 ounces) bread flour
2 1/4 teaspoons instant or rapid-rise yeast (1 packet)
1 teaspoon sugar
3/4 teaspoon salt
Topping
1 (28-ounce) can diced tomatoes
1 tablespoon olive oil
2 garlic cloves, minced
1 teaspoon dried oregano
1/4 teaspoon salt
8 ounces mozzarella cheese, shredded (2 cups)
1/4 cup grated Parmesan cheese
2 tablespoons chopped fresh basil
INSTRUCTIONS
FOR THE DOUGH:
Coat rimmed baking sheet with 2 tablespoons oil. Combine water and remaining 1 tablespoon oil in 1-cup liquid measuring cup.
Using stand mixer fitted with dough hook, mix flour, yeast, sugar, and salt on low speed until combined. With mixer running, slowly add water mixture and mix until dough comes together, about 1 minute. Increase speed to medium-low and mix until dough is smooth and comes away from sides of bowl, about 10 minutes.
Transfer dough to greased baking sheet and turn to coat (
oil hands from baking sheet so the dough doesn't stick to you
). Stretch dough to 10 by 6-inch rectangle. Cover with plastic wrap and let rise in warm place until doubled in size, 1 to 1½ hours.
Stretch dough to corners of pan, cover loosely with plastic, and let rise in warm place until slightly puffed, about 45 minutes. Meanwhile, adjust oven rack to lowest position and heat oven to 500 degrees.
FOR THE TOPPING:
Place tomatoes in colander and drain well. Combine drained tomatoes, oil, garlic, oregano, and salt in bowl.
Combine mozzarella and Parmesan in second bowl. Sprinkle cheese mixture over dough, leaving ½-inch border around edges.
Top with tomato mixture and bake until well browned and bubbling, about 15 minutes. Slide pizza onto wire rack, sprinkle with basil, and let cool for 5 minutes (
trust me, these 5 minutes are important!
).
Serve.
Results
Love it! We've made this pizza twice now and it's our new favorite! Takes time so it's not a last minute dinner idea, but totally worth it!
We left out the garlic, Parmesan cheese, and basil for the topping and used more mozzarella and oregano because that's what we like. Going to add olives next time. Customize it however you like!