In one of the Facebook groups I belong to, one of the ladies came up with a genius idea: a sample challenge! The challenge is pretty straightforward, just use three or more of the samples received in various subscription boxes. Simple, right? But so many of us just toss the samples into a drawer and forget about them, so we really needed this!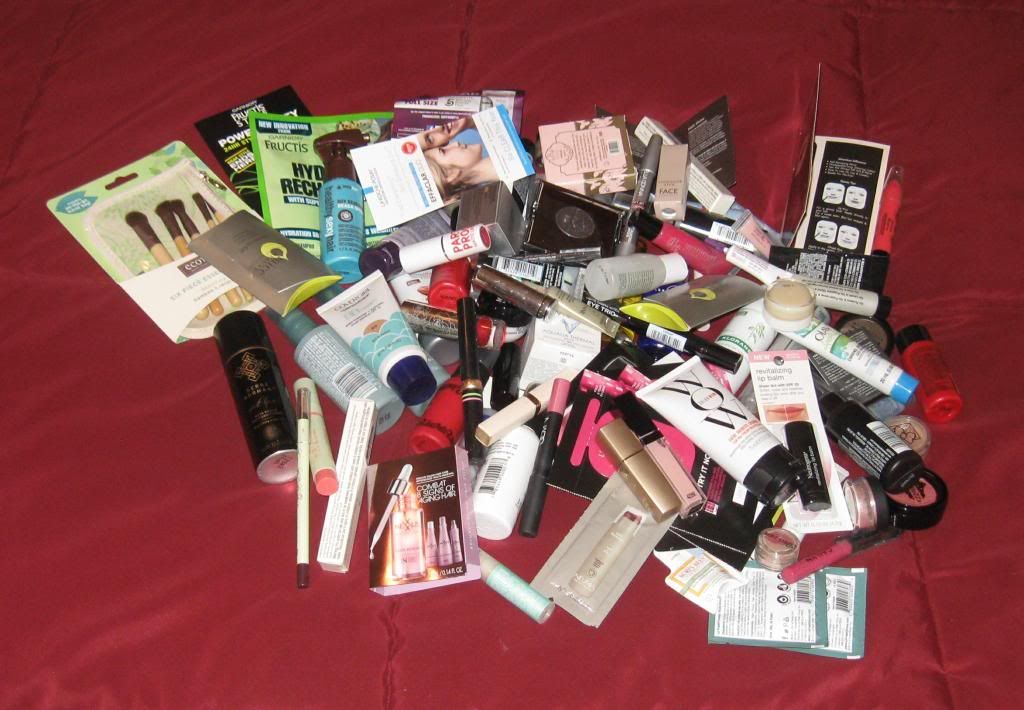 Sadly, this isn't even all of them.
Keeping it random, I grabbed a hand soap, eye shadow palette, cleanser, and a night repair oil.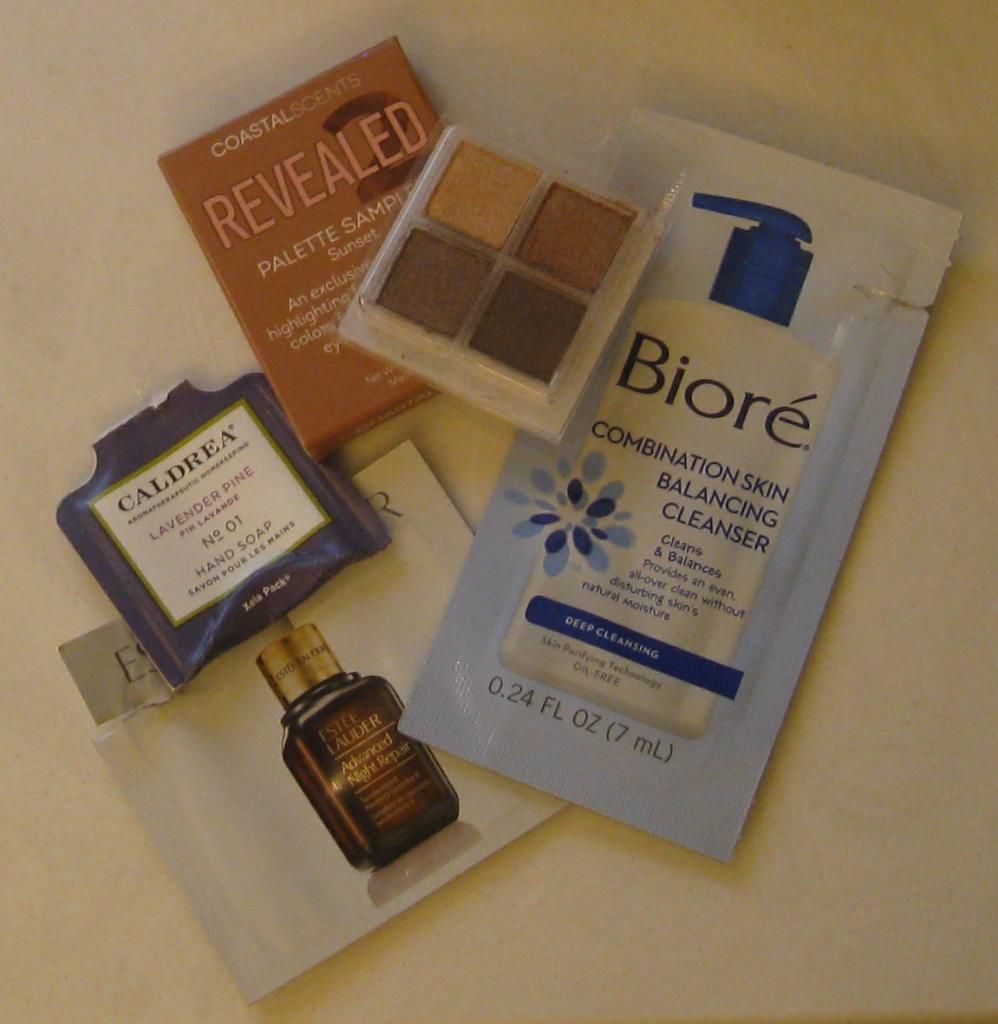 The Samples:
Caldrea Lavendar Pine hand soap
With Caldrea Lavender Pine Hand Soap, hands are soft, clean and fragrant as the bottle brightens kitchen or bath. Aloe Vera Gel, Olive Oil and essential oils cleanse and condition.
Coastal Scents Revealed 2 Palette Set
With both matte and shimmering shadows, this palette has you covered from day to night, even on the go. The smooth, powdered shadows glide on and blend easily.
Biore Combination Skin Balancing Cleanser
Got combination skin that's sending you mixed messages? Achieve the clean you want, without disturbing the natural moisture your skin needs. This cleanser removes all forms of impurities while leaving 90% of skin's natural moisture, giving your face an even, all-over clean.
Estee Lauder Advanced Night Repair Sychronized Recovery Complex II
Reveal a smoother, more radiant, younger look. Wake up to more beautiful skin every day. Tested and proven: Advanced Night Repair dramatically reduces the look of all key signs of aging.
My Thoughts:
The Caldrea hand soap had an incredibly pungent scent of pine, with nary a sprig of lavender in sight. I think this scent would be better suited for a general cleaner, as I didn't like it as a hand soap at all.

I didn't care for the Coastal Scents palette as the shadows were too shimmery for my taste. I guess I prefer matte, no glitter or shimmer allowed.

The Biore cleanser was okay, but I would have liked a larger sample to see how my skin reacted over a week or two. I trust the Biore name, but two day's worth of use didn't wow me.

I didn't care for the Estee Lauder oil at all. I used too much the first time and had to blot the excess off my face. Nasty! I tried it again the next night, using only a drop or two, but my face still felt too oily. As someone with oily skin to begin with, I did not like that sensation. Plus, coincidence or not, it made me break out.


This week reminded me why I don't like foil samples. The little notches never tear right so I wind up using my teeth or looking for scissors. Using my teeth is easiest, but then I wind up with a mouthful of soap or cleanser. Yuck! Nothing wowed me this round, but at least I have four more product samples under my belt!