In one of the Facebook groups I belong to, one of the ladies came up with a genius idea: a sample challenge! The challenge is pretty straightforward, just use three or more of the samples received in various subscription boxes. Simple, right? But so many of us just toss the samples into a drawer and forget about them, so we really needed this!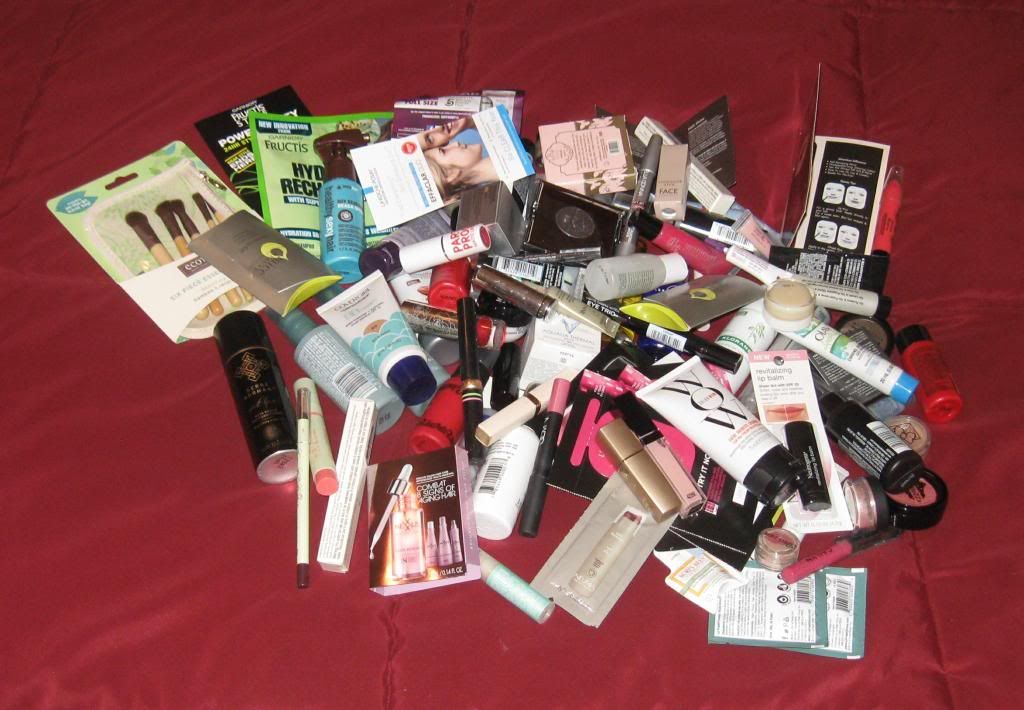 Sadly, this isn't even all of them.
I decided to keep it random and just grab a few different samples each week. I wound up with a shampoo, conditioner, mascara, detangler and hand scrub.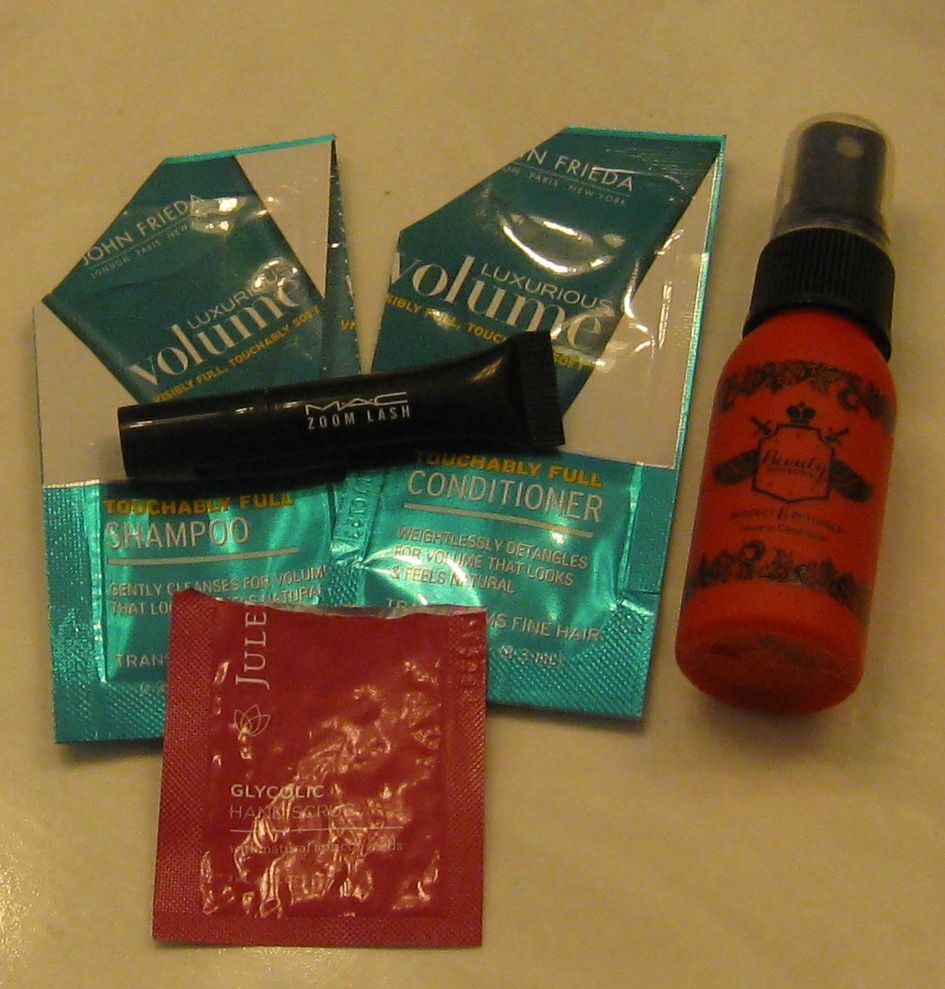 The Samples:
Patented formula contains specialized volume building technology paired with cleansing agents. The formula gently cleanses and detangles fine hair as it applies volume boosters, then rinses clean. Volume boosting technology is activated during blow dry to enhance hair's natural volume, for hair that feels naturally full and soft.
Beauty Protector Protect & Detangle
This paraben- and sulfate-free detangler seals the cuticles (the microscopic scales that compose the outermost layer of each strand of hair). It also smooths and moisturizes, thereby minimizing frizz, while safeguarding color and adding shine. Lastly, it provides protection against UV rays and heat. Happily, it accomplishes all this through a weightless, non-greasy formula that leaves behind an airy floral scent.
MAC Zoom Lash
Major drama. Lasts all day. Creamy, velvety formula builds density and conditions. Feels light, supple. Ultra-sculpted brush has three-sided fibres to embrace and separate each lash, hugging every curve. Coats in one stroke from root to tip. No smudging.
Julep Glycolic Hand Scrub
Whisk away dirt and oil and reveal noticeably softer and younger looking hands after just one use. You'll be surprised that something so effective smells so good! (Insider tip – try this gorgeous scrub all over your body, it's even gentle enough for your face.)
My Thoughts:
The John Frieda shampoo and conditioner was meh. Cleaned my hair, but I didn't notice any increase in the volume. I have really straight, thick hair that just lies there, so I'm on an everlasting search for something that will actually add volume.
Loved the Beauty Protector detangler! Worked great! Once I've used up my current stockpile of detanglers, definitely stocking up on this!
The mascara really made my eyes pop, but seemed overly wet and I had to be really careful when applying. The first time, I managed to get it on my face and on the inside of my eyelid, but it wiped off easily. Contrary to it's "no smudge" description, it smudged when I forgot I was wearing it and rubbed my eyes that night. This was hours after application, so it should have been plenty dry by then! Would totally buy this if it was truly no-smudge, as I loved how it made my lashes look!
The Julep hand scrub really worked! Loved the way my hands looked and felt softer after the first use, although I didn't notice the good smell that the online reviews mentioned. I'll add this to my Julep wishlist and hope it's included in the next sale!


Another good week of using up my samples! And I even found two new products to buy, so considering this week a win!