In one of the Facebook groups I belong to, one of the ladies came up with a genius idea: a sample challenge! The challenge is pretty straightforward, just use three or more of the samples received in various subscription boxes. Simple, right? But so many of us just toss the samples into a drawer and forget about them, so we really needed this!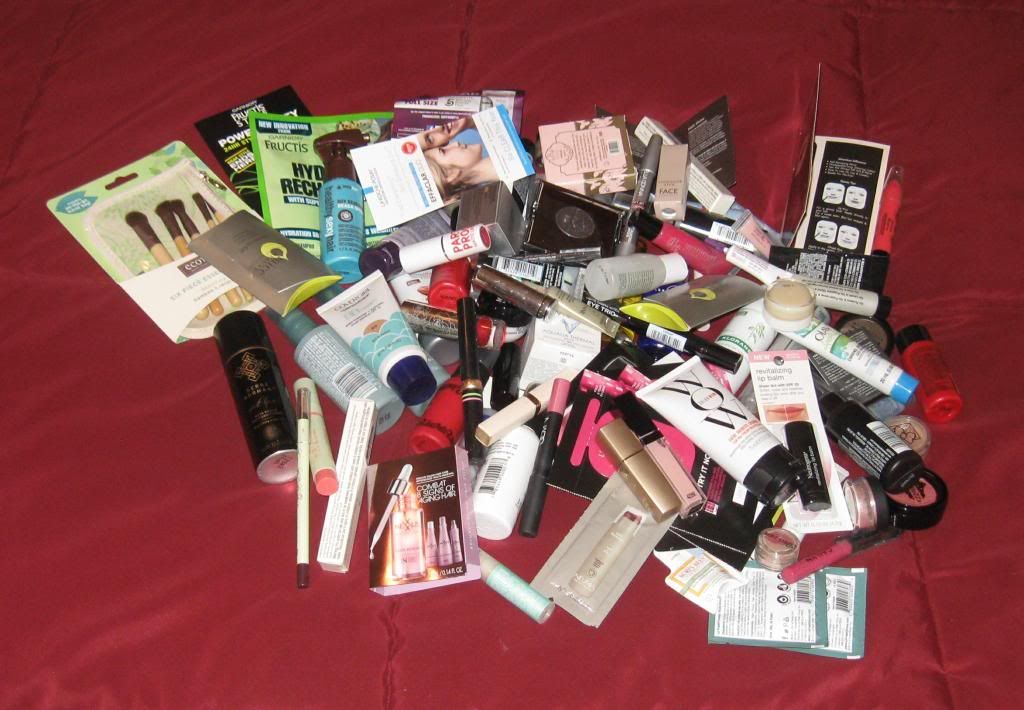 Sadly, this isn't even all of them.
I decided to keep it random and just grabbed a few different samples. I wound up with a face cream, three perfumes, and makeup remover wipes. I started using a couple others, but they're not empty yet so I'll save them for next week's wrap-up.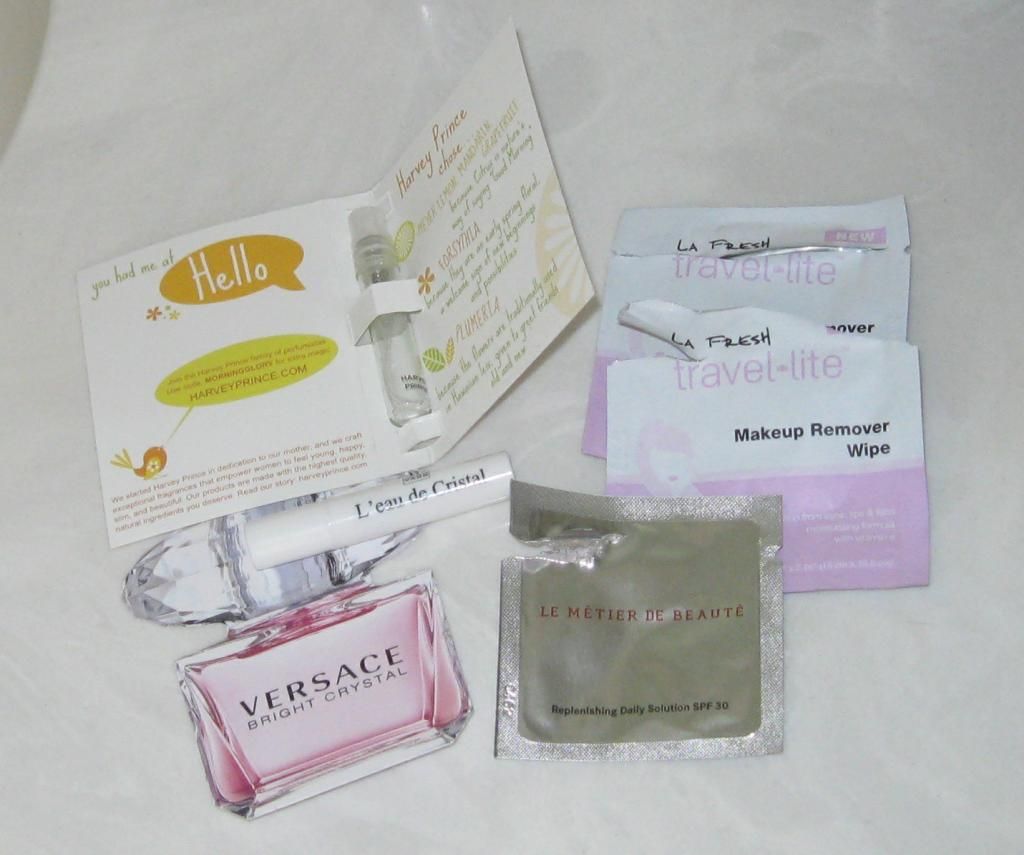 The Samples:
Harvey Prince Hello
For their latest fragrance, the brother duo behind Harvey Prince decided to mimic the joy of waking up to a warm day with the sun shining and the flowers blooming. The resulting blend is an energizing mix of citrus and floral notes that will keep you optimistic even when you get up on the wrong side of the bed.
LA FRESH Travel Lite Makeup Remover Wipes
These travel-friendly wipes are biodegradable and compostable. The leakproof packaging makes them perfect for carry-on bags and purses alike, while the vitamin-E enriched formula allows for gentle, thorough makeup removal, leaving skin smooth and soft.
Le Metier de Beaute Replenishing Daily Solution SPF 30
This highly emollient cream is designed to condition and hydrate while it nourishes and detoxifies - the formula normalizes the skin's moisture content to provide unparalleled suppleness. Broad-spectrum SPF 30 protects the skin damaging UVA/UVB rays.
Versace Bright Crystal
Versace Bright Crystal features top notes of yuzu, iced accord, and pomegranate. Mid notes of rose, peony, magnolia, acajou, and lotus flower rest atop sensual base notes of vegetal amber and musk.
Joan Vass L'eau de Cristal
Citrusy top notes of bergamot and mandarin blend with middle notes of black currant, rose oil, and raspberry puree. Fresh musk, vanilla bean, and patchouli oil round out the cast of this grownup scent.
My Thoughts:
My favorite sample was the Harvey Prince Hello fragrance. Loved the scent, but it was really hard to apply. My sample vial was only half-full and keep clogging, but totally worth the effort as it's such a nice, summery scent!
Also loved the Le Metier de Beaute face cream. Very thick and creamy, it had a pink sheen to the it that I found appealing for some reason. I felt all fancy applying it because I know how expensive a jar of this stuff is ($225 for 1.7 oz!), but to be honest I didn't see much difference from my bargain face creams. This small foil packet lasted several days, and part of me is so relieved it didn't work any miracles because I just can't justify spending that much on face cream!
The makeup remover wipes were just okay. While it looked like it removed most of my makeup, my mascara was stubborn and didn't want to come off with these wipes. I didn't really like these because they seemed too wet. While the liquid didn't drip off the wipes or anything, they just felt too moist and I didn't like the sensation. Maybe I'm just used to my Yes To wipes, but the excessive wetness turned me off.
The Versace perfume sample was very faint, so I couldn't tell you if I like the scent or not. I'm not sure if the sample had dried out or if the perfume is just that subtle, but this was a no for me.
Last and certainly least, the L'eau de Cristal sample. Hated it! I only used it once and it's going in the trash despite not being empty. It smelled okay in the vial, but horrible on my skin! I did sniff-tests throughout the day hoping that it would settle down and improve, but no luck.
Very happy with the results from my first week! Have a couple of samples I started, and going to pull out a few more. Need to get through my huge sample stack, so glad that Jill thought up this challenge!