I recently took part in a tea swap in one of my Facebook groups. We were divided into groups of four and sent 10 bags of tea to each other. I love tea and thought this was a great way to try new flavors, as well as pass on some of the teas we purchased but didn't really care for.
The first package I received was from Shana. I didn't even think to package my tea up nicely and was really impressed when I saw this pretty bag! Here's what I received:
Numi fennel spice green tea
Mighty Leaf white orchard white tea
Peets Tea English Breakfast
Serengeti Tea Company cardamom black tea stick
Millie's Savory Tea spicy tortilla green tea
Traditional Medicinals lemon echinacea throat coat herbal tea
Traditional Medicinals throat coat herbal tea
Choice rooibos herbal tea
Lipton iced tea brew

***
My second package came from Nicole, who decorated the envelope with cute washi tape! I must be missing the creative gene, because it never occurred to me to decorate the envelopes! Here's what I received from Nicole:
Celestial Seasonings True Blueberry loose tea
Revolution Orange Chocolate green tea, loose
Celestial Seasonings Sweet Harvest Pumpkin loose tea
Celestial Seasonings Chai tea. loose
Spice Dragon red chai herbal tea
Mango Passionfruit herbal tea
Bigelow Pumpkin Spice tea
Bigelow Spiced Apple Cider herbal tea
Impra Cherry green tea
Impra Peach green tea
Impra green tea
***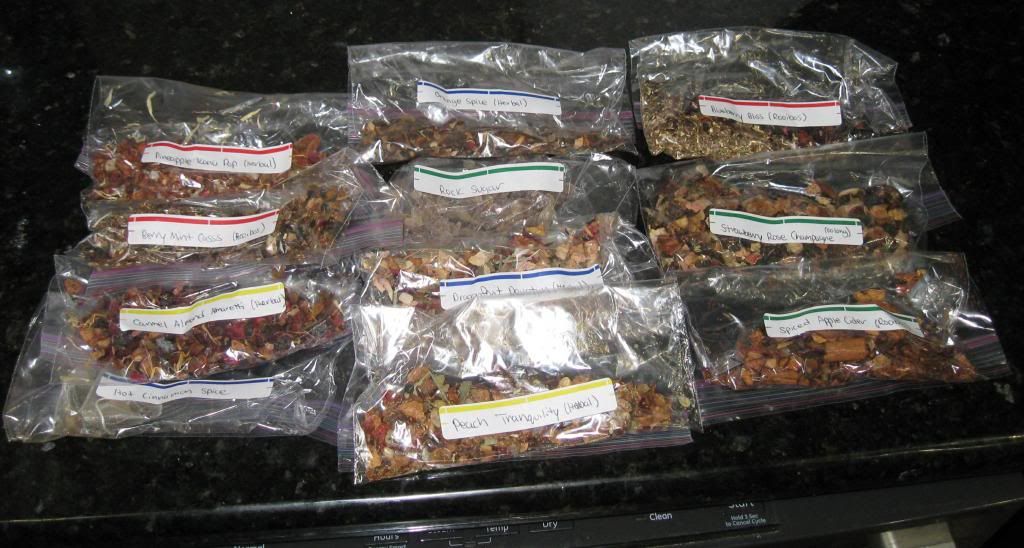 Last but certainly not least, my third package from Ellie! It was the best smelling package I've ever received, and it made both my mailbox and my kitchen smell oh-so-good! All loose tea, I'm excited to try out my new teapot! Here's what I received:
Dragonfruit Devotion herbal tea
Hot Cinnamon Spice tea
Orange Spice herbal tea
Berry Mint Cassis rooibos tea
Strawberry Rose Champagne oolong tea
Spiced Apple Cider rooibos tea
Pineapple Kona Pop herbal tea
Blueberry Bliss rooibos tea
Carmel Almond Almaretti herbal tea
Peach Tranquility herbal tea
rock sugar
Very happy with the results of my first tea swap! I bought a tea strainer and looking forward to using my tea pot for the first time in a long, long time!