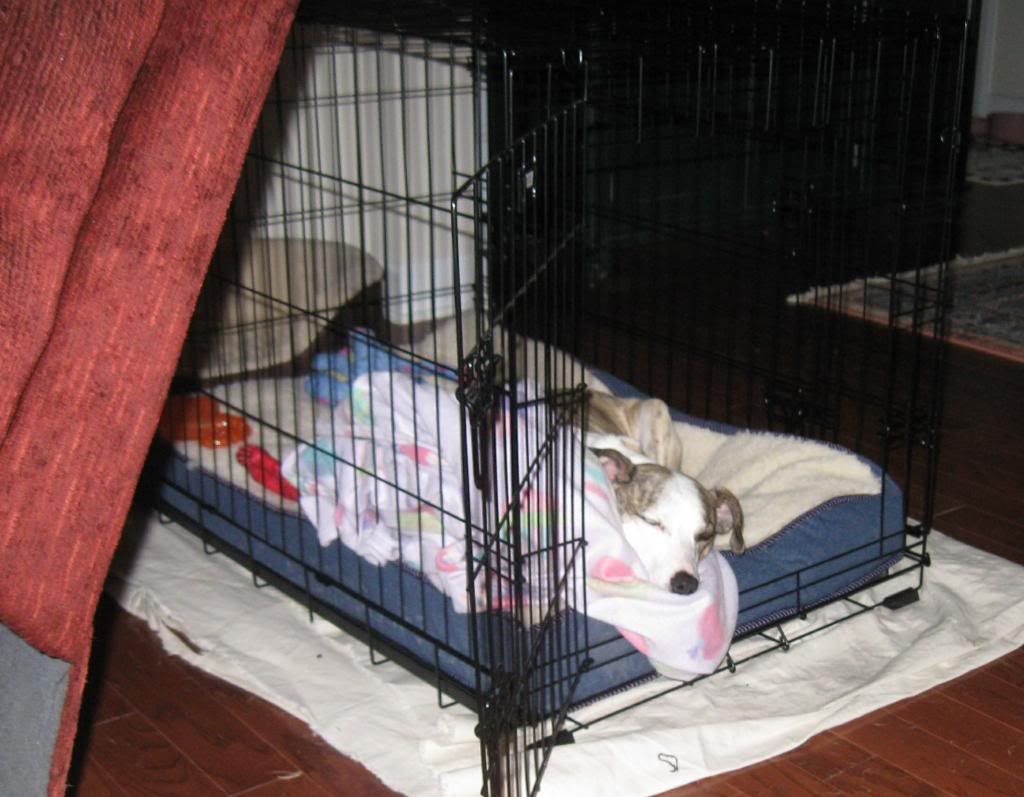 We took Waffles to the vet for her first heartworm shot on March 3rd. Fed her and gave her a Benedryl before we left home. I brought a little tote packed with her blanket, a favorite toy, and some food. She doesn't like the vet's office, so started trembling and crying as soon as we crossed the threshold. It was hard to leave without her.
Even though we've only had her a little over six months, the house felt really strange and empty without her. We both worried all day and wondered how she was doing. When we hadn't heard anything from the vet by 3pm, I called to check on her. Told that she did fine and we could pick her up at 5:30, we both sighed in relief.
Waffles was still a little woozy when they brought her into the examination room for our reunion, but she seemed happy to see us. DH sat on the floor with her, as she was a little wobbly standing. The vet came in to explain what they did that day and gave us instructions for the next month. Antibiotics and Predisone again, with another Heartguard Plus treatment the next morning.
She jumped in the car okay, curled up in the back seat and slept the entire ride home. DH had to lift her out of the car when we got home, probably because she was groggy. We were both afraid to touch her back, so he was really careful. She went right to her living room crate and slept the rest of the night. We had to coax her out of the crate to go outside to potty before bed, then she curled up in her bedroom crate and didn't move all night. Poor baby.
The vet gave us pain pills in case she seemed stiff or sore, but Waffles was a real trooper and didn't need any! She slept most of Tuesday, then gradually got back to normal. I find myself constantly checking her breathing when she's sleeping, but no emergencies so far (knock wood).
March was better than February as she only vomited the thin, yellow bile twice this month. Always in the middle of the night. It's a horrible way to wake up, but doesn't seem to bother her all that much as she just goes back to bed.
I don't like giving her Benedryl every day, but she gets too active when we don't. We had to crate her a couple of times when she wouldn't settle down and wanted to play, but she's been pretty good otherwise.
She seems to have gotten used to being on a leash when we take her out, but has managed to slip her collar twice. Once with DH and once with me, so we now keep an eagle eye on her whenever we're outside. She's a clever girl, and immediately started running laps both times. Fortunately, she's out of shape and only managed a couple of laps before she got tired.
The next big appointment is the 31st, where she'll have to stay overnight and get two shots, 24 hours apart. This one really has me worried, and it's going to be very strange not having her home with us.