Love With Food is a monthly subscription service which delivers gourmet foods directly to your home, some sample-sized and some full-sized. A nice plus is that for every order, they donate a meal to a hungry child! How great is that?
They offer a Tasting Box and a larger Deluxe Box, with the option of subscribing by 1 month, 6 month, or annually. And all of the foods are all-natural or organic, so it's a fun way to discover healthy new snacks.
I've subscribed to Love With Food in the past but had to cancel, so was happy when they offered me a complimentary box for review! I believe that this was the box sent out for November, and the theme is Flavors of Fall.
First look at my Tasting Box.
Sweet Potato popped chip snack by Popchips. Popchips are naturally delicious potato and tortilla chips like you've never tasted before. Never fried (unhealthy). Never baked (undelicious). We start with the finest ingredients, add a little heat and pressure, and pop! it's a chip. The only thing added is a flavorful blend of seasonings for a snack so crispy and delicious, you won't even notice it's (we hesitate to say) healthier.
While I'm not normally a fan of sweet potatoes, these chips are surprisingly tasty! Much healthier for you too, so can see this as an occasional replacement for regular chips.
Sensible Foods Sweet Corn Crunch Dried Snack. Sensible Foods products are unlike other dried fruits. Our Crunch Dried® process removes the water and keeps the fruit's natural form with adding a crunch that will satisfy the biggest junk food lover. Our snacks are also fulfilling that crunchy snack craving to keep you satisfied throughout the day.
This was a pleasant surprise, as I didn't expect to like these. There's a strong sweet corn flavor, with a nice crunch. Much tastier than rice cakes!
Mighty Leaf Ginger Twist Artisan Tea. Mighty Leaf Ginger Twist herbal tea combines lemongrass with tropical fruits and refreshing mint to culminate in a lush infusion balanced with a touch of Australian ginger and ginseng. Packaged in a silken tea pouch, our gourmet teabag, this magical loose leaf tea blend delivers an extraordinary flavor experience.
To me, there's nothing better than curling up on the couch with a nice, hot cup of tea on a cold winter day! Unfortunately, I didn't care for the ginger flavor. Guess this just wasn't my cup of tea. ;)
Chicken Tikka Masala seasoning by Arora Creations. Feel like adding a kick to your meat or vegetable routine? The Organic Tikka Masala Spice is a fragrant and exotic blend of ground sunflower seeds, coriander, black pepper, cumin, cardamom, and other exotic seasonings. This Masala, or blend of spices, will tease your senses and get your stomach ready to grub on some delicious greens or meat! So go ahead add more than just a pinch!
None of us care for strong spices, so I'll be gifting this to a niece who has a more adventurous palate.
Laura Secord maple fudge. If Willie Wonka had a Canadian Cousin who was not only obsessed with making delicious candy, but luxurious and premium chocolate as well then Laura Secord would be her name. This delicious fudge is made with authentic maple syrup from the spacious Canadian hillside.
Maple + fudge = chewy goodness!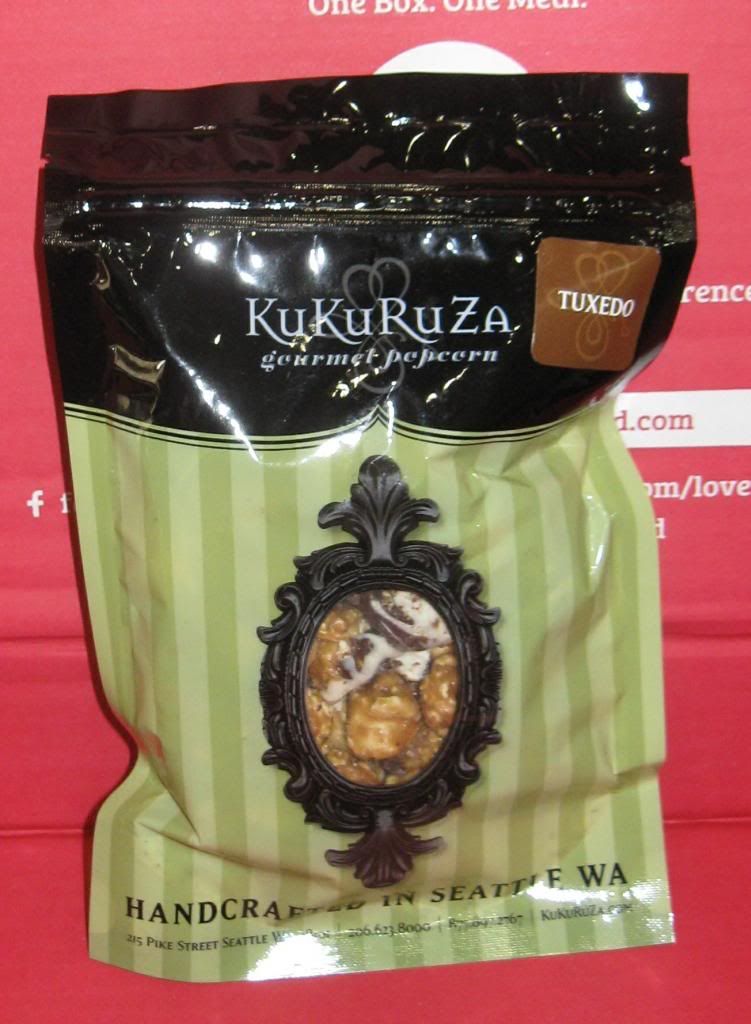 KuKuRuZa Tuxedo gourmet popcorn. If you haven't tried Kukuruza yet, we shall be the first to say that your mouth is missing out. You're curious, we can see it now. This unique combination of premium milk and white chocolate will help satisfy your savory and sweet cravings, all in one bite.
A good popcorn, but I wish there was less chocolate. While I love chocolate, I've never been a big fan of chocolate-covered popcorn. Would probably like other flavors better.
Green & Black's organic dark chocolate. Just let a single square rest on your tongue and see how many flavors you can pick out. Do you get a rich nuttiness? Roasted coffee? Savory notes? Bitter cherry? Sweet vanilla? Our original dark chocolate may look simple, but it's anything but.
I prefer mild chocolate, so gave this to DH. It disappeared pretty quickly, so assuming it was good!
Eat Natural fruit & nut bar in Apricot & Almond Yogurt bar. Color versus Colour? Yogurt or is it yoghurt? Well no matter how you spell it, this all natural bar takes the cake. It is a simple mix of unsulphured apricots, crunchy almonds and coconut and then topped with a smooth layer of yogurt coating.
Better than expected as the apricot & yogurt combo had me a little nervous. Would make a good snack when you just need a little pick-me-up.
Rosemary & Pink Sea Salt shortbread by Dancing Deer Baking Company. Without even opening the bag, you can already smell the sweet Rosemary seeping through the wrapper. The playful balance of aromas makes this savory shortbread a perfect companion with an array of cheese and meat plates, or for a quick sweet snack, try adding a thin layer of strawberry jam.
Didn't really care for this one, as I don't like the taste of rosemary or shortbread. I split it with DH, who said it was a little too dry for him.
Love With Food is currently offering a great special: When you order a gift subscription, you'll receive a $15 gift to either Soap.com or Little Black Bag. You can also save $5 with coupon code HOLIDAY2013.
Complimentary Tasting Box provided in exchange for an honest review.