BarkBox is, literally, for the dogs. Their goal is to make dogs happy. BarkBoxes contain all-natural treats and other the coolest pup products in each box - things you can't find at the typical big-box pet store. Each monthly box contains a combination of 4-6 treats, toys, and hygiene products that have been hand selected and approved by Scout, head product tester for BarkBox. (website)
First look at our November goodies!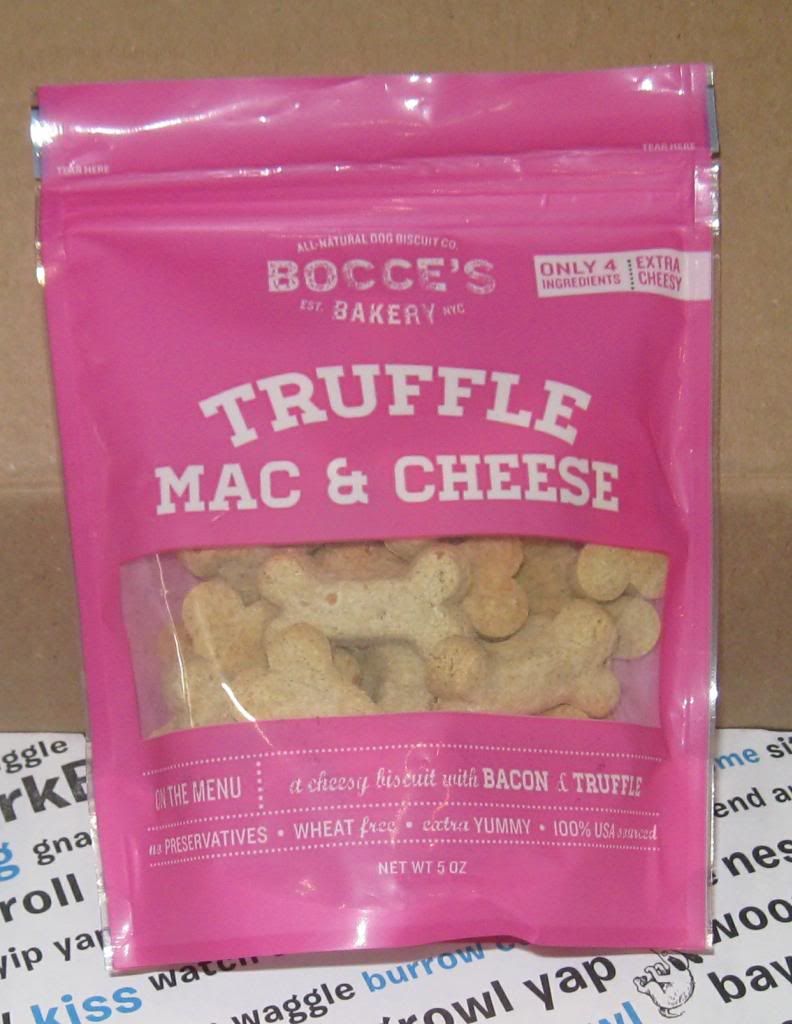 Truffle Mac & Cheese by Bocce's Bakery
($5.95). C
heesy, wheat-free, preservative-free goodness. With organic, local ingredients like cheese, turkey, bacon, and truffles - and yes, dogs deserve them doggone it - humans may be the ones begging our pups to pass the mac & cheese, please!

Etta Says Crunchy Deer Chew
($0.99).
Made with novel proteins - perfect for pups with allergies! - the team at Etta Says makes some of the most premium, high-quality chews we've seen yet.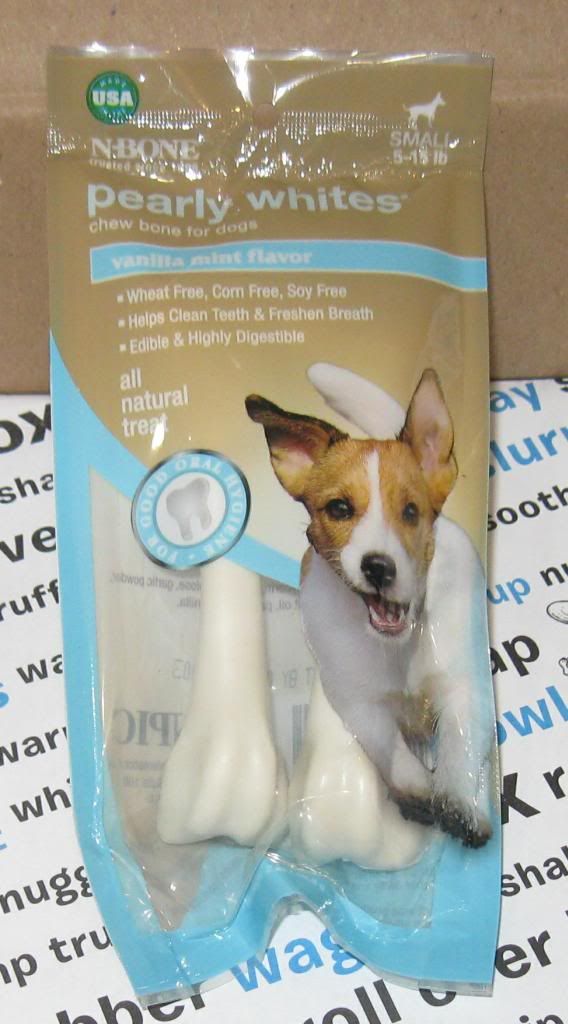 N-Bone Pearly Whites chew bone
in Vanilla Mint flavor ($2.79).
Treats are fine and dandy, but clean teeth and fresh breath require proper oral hygiene! The all-natural Pearly Whites chew bone is wheat free, corn free, and soy free, so your dogs can get a treat and clean their teeth at the same time.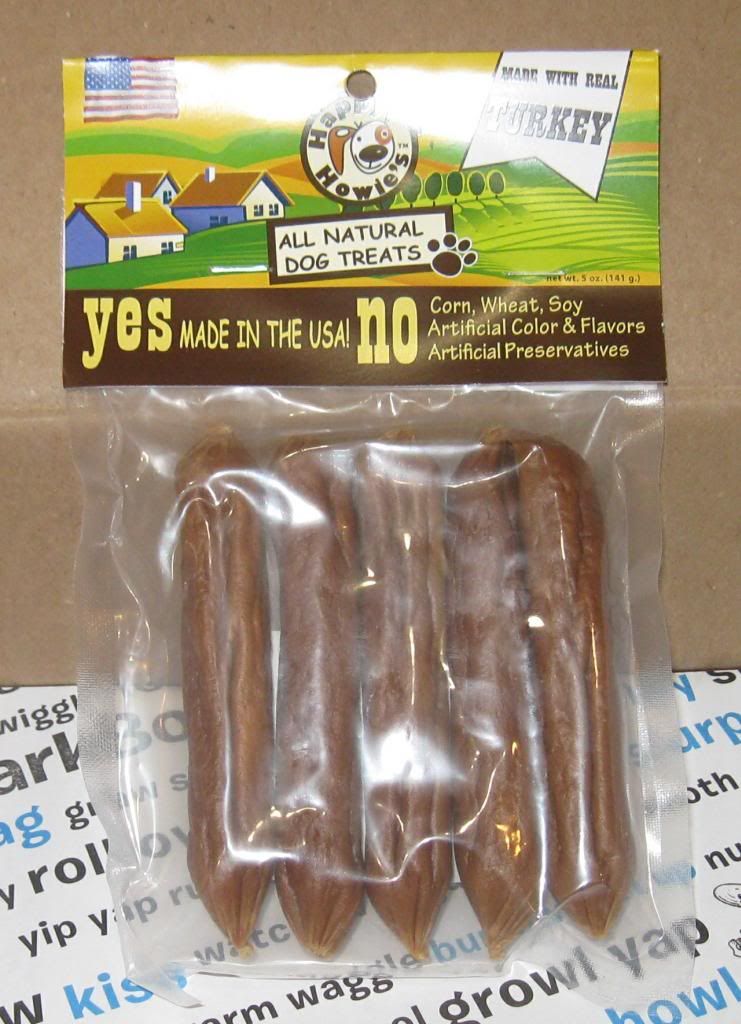 Happy Howie's Turkey Sausage
($2.79).
According to Happy Howie's, what goes into your dog's treas is every bit as important as how much he likes them - we couldn't agree more! Since we believe you can have your cake (or turkey sausage) and eat it too, Happy Howie's makes delicious, all-natural treats that you can break into appropriate portions.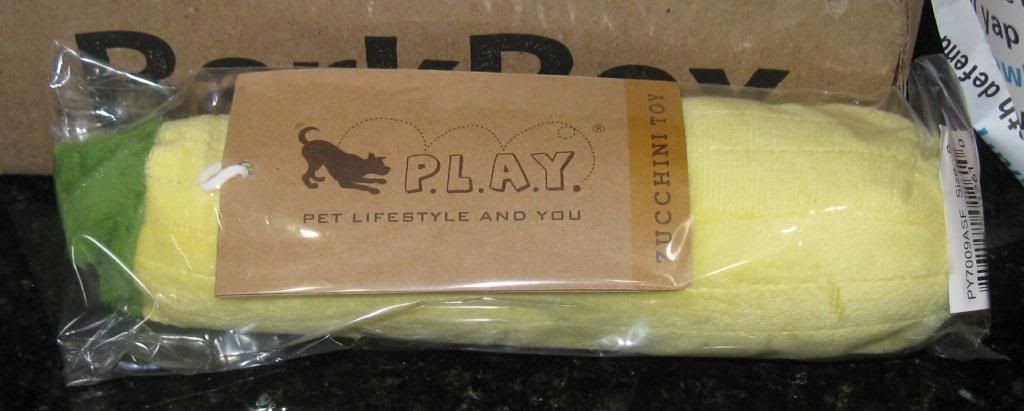 P.L.A.Y. Zucchini dog toy
($9.50).
Squeaky, eco-friendly, and...healthy? Vegetables have never been so fun. P.L.A.Y.'s zucchni toy is handmade with the same, strict production standards as infant and children products. Features double-layered AZO-free fabric, double stitching, and stuffing from 100% post-consumer recycled bottles.
Waffles loved her new toy! Unfortunately, it only lasted a few hours before she managed to tear a hole in the end. This is the first Barkbox toy that didn't last. :(
This is the first time I've calculated the value of a BarkBox, and a couple of the items weren't for sale on the manufacturer's website so I had to check elsewhere. Came up with a total of $22.02, which is not a great value for the $29 per month subscription ($24/month for a 3 month sub and $19/month for a 6 month sub).
Was disappointed with the toy, as my dog was only able to play with it for a few hours. She did love it, but I had to throw it away after she tore a hole in it. She loved the chew bones, and the mac & cheese treats are a big hit, but to be honest, we have yet to find a treat she doesn't love.
While I enjoyed getting new items in the mail for her to try, I cancelled the subscription as it's just a little too expensive for our budget. Back to Milkbones and Beggin' Strips!